Before I compile my pictures and share our trip to Legoland with you  (you can follow the link to see Mrs. Do-er's version of the story) I need to back up to last month and say, "Hey, everybody!  April is Autism Awareness Month!"  Sorry if you weren't aware--I didn't do my part in spreading the word via cyberspace. 
The City made a special presentation at their City Council meeting on April 14, officially proclaiming April as Autism Awareness month in our town.  Many of our local families with loved ones affected by Autism were able to come out to the event and spread the awareness.  We showed our solidarity in brand new T-shirts that Big Daddy designed for our group. 
Autism hits home for one of our City Council members.  She invited These three boys up to lead the Pledge of Alligiance.  J-Boy still talks proudly about the "time he was on TV."  The Council meetings are televised, and he is going to write a letter asking for the promised DVD of the meeting "so he can post it on YouTube."  The Councilwoman read a well-loved essay by Emily Perl Kingsley that explains what it is like to have a child with a disability.  I'll share it with you here.
WELCOME TO HOLLAND
By Emily Perl Kingsley, 1987
I am often asked to describe the experience of raising a child with a disability--to try to help people who have not shared that unique experience to understand it, to imagine how it would feel.  It's like this...

When you're going to have a baby, it's like planning a fabulous vacation trip--to Italy.

You buy a bunch of guidebooks and make your wonderful plans:  the Coliseum, Michelangelo's David, the gondolas in Venice.  You may learn some handy phrases in Italian.  It's all very exciting.

After months of eager anticipation, the day finally arrives.  You pack your bags, and off you go.  Several hours later the plane lands.  The flight attendant comes on and announces,

"Welcome to Holland!"

"Holland!" you say.  "What do you mean Holland?  I signed up for Italy!  I'm supposed to be in Italy!  All my life I've dreamed of going to Italy!"

But there's been a change in the flight plan.  You've landed in Holland, and here you must stay.

The important thing is that they haven't taken you to a horrible, disgusting, filthy place, full of pestilence, famine and disease.  It's just a different place.

So you must go out and buy new guidebooks.  And you must learn a whole new language.  And you will meet a whole new group of people you would never have met.

It's just a different place.  It's slower-paced than Italy, less flashy than Italy.  But after you've been there for a while, and you catch your breath, you look around, and you begin to notice that Holland has windmills.  Holland has tulips.  Holland even has Rembrandts.

But everyone you know is busy coming and going from Italy, and thy're all bragging about what a wonderful time they had there.  And for the rest of your life, you will say, "Yes, that's where I was supposed to go.  That's what I had planned."

And the pain of that will never, ever, ever go away, because the loss of that dream is a very significant loss.

But if you spend your life mourning the fact that you didn 't get to Italy, you may never be free to enjoy the very special, the very wonderful things about Holland.
The first time I heard this story, I was inspired to make a cross-stiched windmill with "Welcome to Holland" on it such that it would sorta look like a souvenier.  I found some cute vintage dishtowels and tableclothes online to help me with the design and styling.  Then I looked online to translate "welcome to Holland" into Dutch.  The most reliable source I found said, "Verwelkomen naar Holland".  I went with that.  When Ms. Concil-member began reading, I knew right away that I needed to make her one.  So, here is my first entry for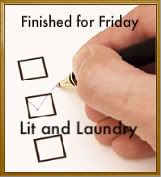 You can click the "Finished for Friday" icon and go over to Lit & Laundry's blog to see all of the successes of the week others have posted.  Mrs. Do-er participates when she can, and, I copy her as often as she threatens me possible.
Indeed, there are times when I feel like I am clomping along in some ridiculously impractical wooden shoes, or clumsily trying to use my finger to keep a disastrous leak from breaking through the dyke.  But, many times, I experience the awe and surprise of a sprouting bulb long-ago planted and forgotten, that in its due time has been nourished deep in the earth and finally breaks forth.  Those are the moments, the ones that make it all worthwhile, that are beautiful and breathtaking. 
Thanks for letting me share this accomplishment with you all.
Next week, maybe I'll be able to report a shower!